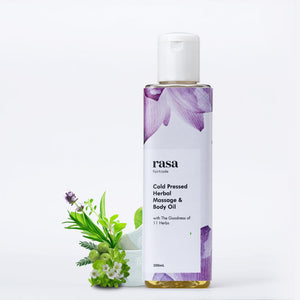 This herbal oil is a natural blend of herbal extracts that is restorative and anti-inflammatory at the same time and leaves the body soft, smooth and extremely soothed. The herbal extracts has been carefully curated by the experts to make an excellent combination for massage oil. Apricot and sesame oil makes skin flowing and supple.
Ingredients-Apricot Oil,Sesame Oil,Pippulmul,Yastimadhu,Debdaru,Jatamansi,Prasarani, Turmeric,Clove,Cinnamon,Khus,Neem ,Eucalyptus Oil,Clove Oil,
How To Use-Apply the body oil to your skin thoroughly with gentle upward strokes. Keep the oil for 30 minutes (at least). Wipe off extra oil with warm towel.