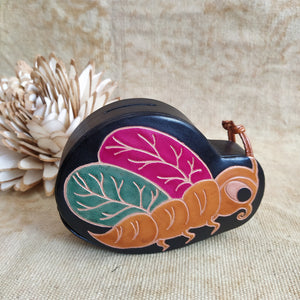 EMBOSSED LEATHER - SHANTINIKETAN
The art of leather embossing in Bengal goes back to 1940's. The design is embossed on the vegetable tanned goat skin using a ball press machine. The pattern is then painted by hand. The leather is polished with a stone to make it soft and malleable. It is finally transformed into bags, purses, money boxes and much more.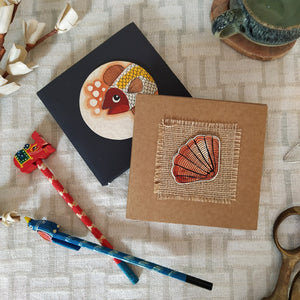 STATIONERY
Wood carving & painting is an ancient craft of Varanasi. Pencils are bought from market and the covers are carved with animal/bird heads, in eucalyptus wood. Lead free paints are used and after painting a clear varnish/ touchwood is used for a smooth surface and to protect the paintings.
COIR PRODUCTS
Coir is a natural, eco-friendly , tensile fibre extracted from the nuts of coconut palms. The women in the villages of Orissa use the coir to make toys, hangings, key rings, Christmas ornaments, gift boxes  and much more.
Partners Speak
Buying from Sasha is a way of offering our customers exclusive products that have a beautiful story.

Vanessa | Handicraft Buyer | Solidar Monde (France)
Working with Sasha Imports is very straight forward and professional, and they provide us proprietary designs that are exclusive to GlobeIn.

Angela | Director of Operations & Product Development | GlobeIn (USA)
We have been excited to blend the traditional technique of Dhokra with current trends in the US Market.

Briana | Noonday Collection (USA)