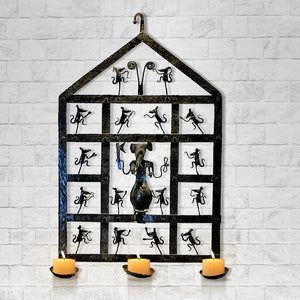 Ideal for gift and décor, the wrought iron candle holder draws its inspiration from the divine Ganesha. The candle holder is unique in it's own way. The candle stand can be mounted on a wall or simply kept on the shelf in a pooja room or temple.
Wrought Iron handicraft also known as "Pitva Art" is an Ancient art form, made by a very small Tribal community of Bastar, Chhattisgarh. They use mostly waste or left out Iron pieces, cut it manually by chisel and hammer and heat it by charcoal. Mostly all the human and animal figures are made of single piece of sheet by manual hammering work of a hot metal piece. To make a joint they use Rivets. NO Welding machine, cutting machine, mold are used to make an artifact and that makes it a true handicraft. When you touch and feel the product you can see the hard work behind each and every piece.
After making, each and every piece is treated with Red oxide to avoid Rust in future and then 3 layer of oil paint (Matt Finish) is done to finish the product.
Material- Metal
Size- 36 cm Width x 55 cm Length 
Care Instructions- Gently clean it with Cotton and Oil. Each and every piece will last for a lifetime.