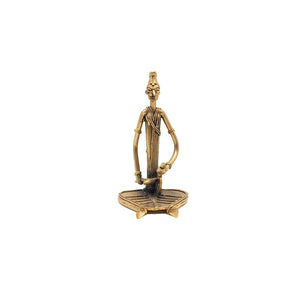 Dhokra is a non-ferrous metal casting process using lost wax casting technique. This is one of the oldest methods of making metal artefacts and can be found in ancient Indian Harappan Civilization.  These handicrafts being completely handmade by rural village clusters of Odisha gives a rustic antique finish.
This Tribal Musician brings an antique rustic feel to enrich your home decor.
Material- Dhokra
Size-L-15 x W-6 cm
How To Clean- First clean all the dust on the artefact with a soft cloth and a soft brush. Thereafter, pour a little bit of brass polish after shaking (like Brasso) and apply on a soft cloth and then rub onto the artefacts gently.